Ons is bly om die Bybel in Afrikaanse taal: Afrikaans Bybel 1933/53 (AFR 53) aan te bied
Laai hierdie toepassing af en lees of luister na die Bybel op jou foon of tablet.
Deesdae, het baie Christene hul eie Bybel op die foon en hulle hou dikwels daarvan om die Heilige woord te luister of te lees. Om 'n Bybel app te hê is goed vir jou vir 'n aantal redes.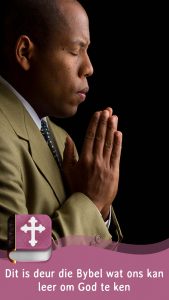 Eerste van alles, 'n Bybel app is 'n goeie manier om God se woord op jou foon te hê waar ook al jy gaan, jy hoef nie by die huis te wees om die boek te lees nie. Sommige mense lees die Bybel buite in die vars lug, of in die bus.
Hierdie Bybel in Afrikaans werk sonder Internet verbinding. Jy kan lees of luister wanneer jy wil, selfs as jy nie gekoppel is aan WI-FI nie.
Daarbenewens, is dit ook 'n oudio Bybel. As jy nie kan lees nie, kan jy die Bybel in jou eie taal hoor.
Alles vir gratis! Geniet die Afrikaanse Bybel!
Afrikaans word gepraat in Suid-Afrika, Namibië, Botswana en Zimbabwe. Dit is 'n afstammeling van die Nederlandse van Suid Hollandse taal, gepraat deur die eerste Hollandse nedersetters in Suid-Afrika . Byna 90 persent van die woordeskat is van Nederlandse oorsprong.
Nou is Afrikaans 'n amptelike taal in Suid-Afrika. Dit word onderrig in skole, gebruik in koerante en verskeie vertalings van die Bybel is gepubliseer. Die eerste amptelike weergawe was vrygestel in 1933, spesifiek vir die Afrikaanssprekende Christen gemeenskap geskep.
In 1953 is 'n nuwe uitgawe gepubliseer, 'n bygewerkte weergawe van die eerste Bybel. Sommige archaic woorde, name en spelling is verander.
Buiten dat dit gratis is om af te laai en aflyn gebruik kan word het hierdie oudio-Bybel ander keContinue reading →