Download the New International Version, a completely new and original translation of the Bible!
Read the most popular Version of the Bible, translated in modern English.
The New International Version (NIV) was created by a group of scholars translating the Bible from the original texts in Hebrew, Aramaic, and Greek.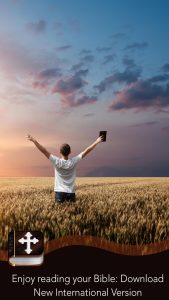 The project was formally started in a meeting in 1965. A big group of scholars met in Illinois and began to translate the Holy book from available manuscripts in the original languages. The purpose was to create a Bible in contemporary English.
The New International Version Bible was first published in 1973 and it had revisions in 1978 and 1983.