Download the Bible on your Android smartphone or tablet and enjoy the divine words of God anytime, anywhere.
This app is the official English translation of the Bible, the famous New King James Bible. It's a modern translation of the original King James, the most influential Bible off all time. The completed NKJV was published in 1982.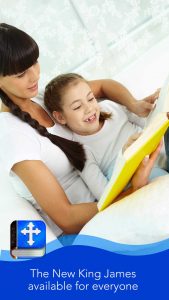 All Christians need to have a copy of the Holy Bible with them all the time. Reading the Holy Bible every day is an important daily task that we can never ignore.
Having the Holy Word of God in your smartphone or tablet is the best solution for you if do not have the time to stay at home and read the Holy book.
After downloading, you can read the Bible without Internet connection.