This app provides the Complete Jewish Bible translation into English by David H. Stern. The best translation for Jews and non-Jews.
Enjoy this unique Bible Version with names and key terms in original Hebrew and presented in easy-to-read English transliterations.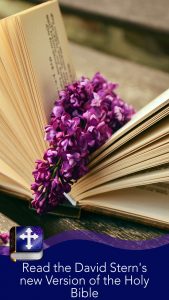 David H. Stern was an American professor and writer who translated the Holy Bible into English. His translation was published in 1998 and consists of a revision of the Old Testament (Tanakh) and original Jewish New Testament (B'rit Hadashah).
His purpose was to make a Jewish Bible close to the original Jewish context and culture and in easy and modern English.
Download this Bible, different from all other Bibles, a version fully Jewish in style and presentation.