Want to take the Living Bible with you everywhere and enjoy its verses and Psalms? Download this free app on your mobile device, a complete version of the Holy Bible King James, the most influential Bible off all time.
The Bible King James or Authorized Version of the King James is a translation of the Bible into English published in 1611. This Bible had an enormous impact on subsequent Bibles translations into English and English Literature in general. It's called King James Version in United States and Authorized Version in the United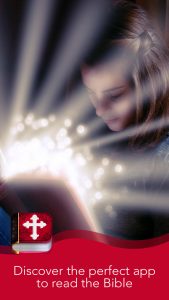 Kingdom.
Share God´s Word, study the Holy Bible and read it whenever you feel so. Feel closer to God than ever and meditate through its verses.
Live a unique experience feeling truly at peace with yourself and loving God above all. Enjoy the harmony and tranquility that only the Bible can give you and experience the joy of being close to God.