Do you like to read the Bible on your phone? Download our app with the American Standard Version, for free.
The Standard American Edition of the Bible, commonly known as the ASV, American Standard Version, was released for the first time in 1900. Also known as The American Revision of 1901 because it's a revision of the King James Version of 1611.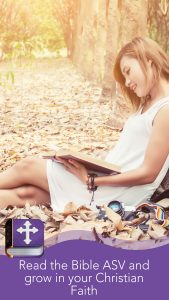 It is also called in America the "Standard Bible". It's the work of a group of scholars from the United States and UK. Work began on the ASV in 1872 and finished in 1901. The mission was to provide an accurate, literal, word for word translation of the Bible.
This translation was attractive in the scholarly environment, and the American Standard Version was adopted as the standard version used by many American seminaries.
The ASV was the basis of several Bible translations such us the Revised Standard Version, the Amplified Bible and the New American Standard Bible.